Velvet Rope Lines VS Spy Balloon, Patriots Who Walked In Capitol Face Prison As Communist Chinese Freely Roam Skies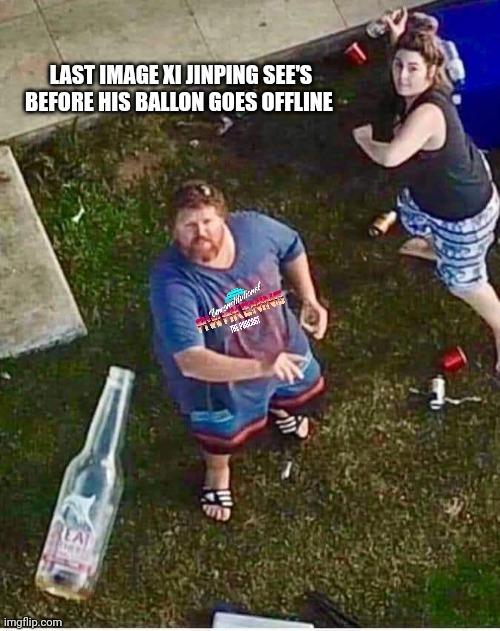 They buy up our land, take up spots in our own colleges, and even take our jobs. Plus they send us viruses (SARS, H1N1 Swine Flu, 'the covid', and likely many more past and future). They even own all democRATs and most RINOs.
Then, this past week, the communist Chinese INTENTIONALLY sent a spy balloon over the USA. It is still up there too, taking a path across the entire country and over several military bases, captivating the entire nation.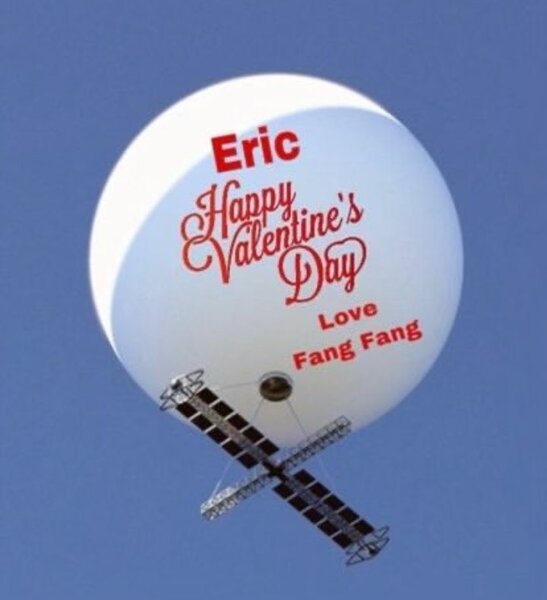 Just as with the Southern U.S. Border with Mexico, if you can't control your own territory you are NOT a real country. All part of the alt-far-left-communist-democRAT plan.
Usurper in Thief Joe Biden and the communist lackeys he employs at the pentagon (formerly The Pentagon, when it was worthy of respect) made the decision to not shoot (or otherwise) down the 3-school bus size balloon 60,000 feet (or 11.363 miles) over our heads.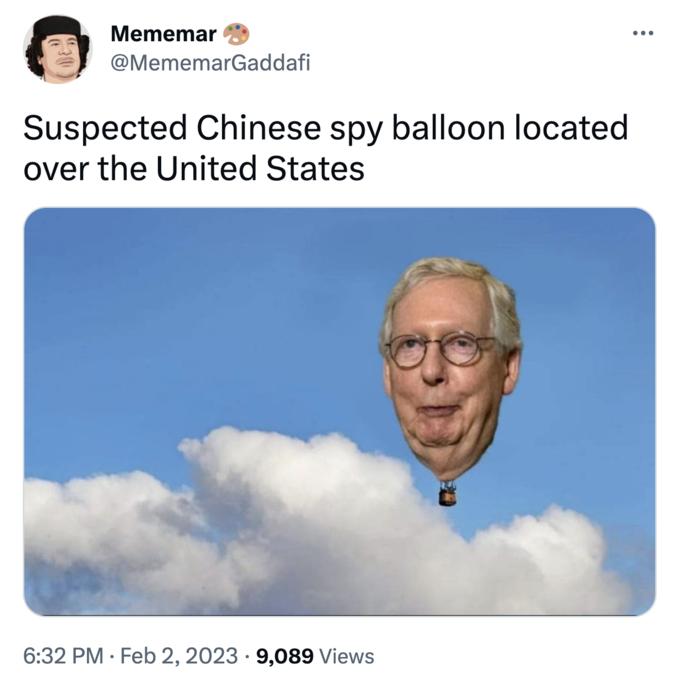 Press Secretary for the pentagon, brigadier general Pat Ryder, said that it poses no immediate threat to the United States.
Well, certainly not as big a one as rat bastards Ryder and Biden do for allowing it. January 28, 2023, was when Biden knew and decided not to take any action. Let that sink in.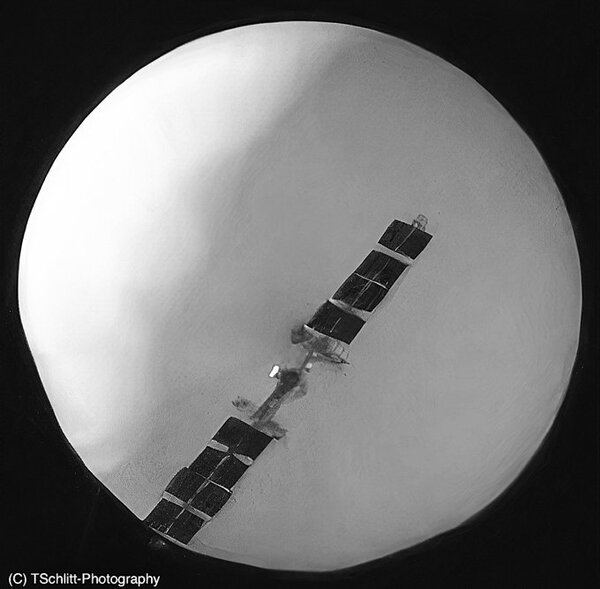 Nancy Pelosi also knew J6 (January 6, 2021) was going to happen, and by not calling out the National Guard (which, because of Washington DC being a 'district' and House control, SHE was required to do), she allowed it all to happen.
What did she allow? The FEDsurrection, run by alt-far-left-communist-democRAT Ray Epps and people like John Earle Sullivan (aka Jayden, or XActivist John).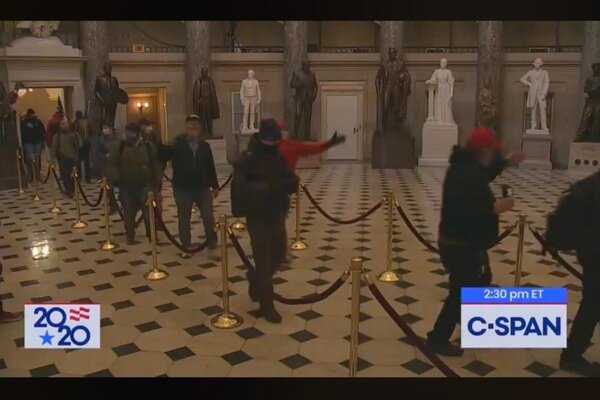 Leftists say "they broke windows, then walked through the rope lines". No, it has been proven with facial recognition that known Antifa and Blm disguised as MAGA (wearing our hats and shirts).
People like John, who is the one that filmed Ashli Babbitt being shot. His brother James Sullivan 'gave tips' on John to the Salt Lake City FBI. But they already knew who he was…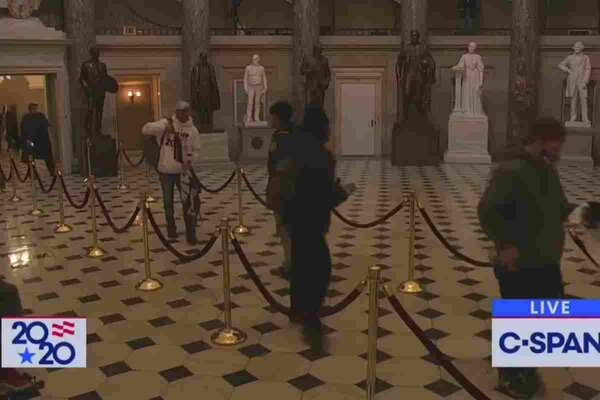 Just as Epps is a Marine veteran, the Sullivan brothers' father, John Sullivan Sr., was a lieutenant colonel in the US Army.
The left want us to believe that John went from being a successful salesman, making over $200K a year, to joining Blm (and possibly Antifa too), to then quitting that and really being a MAGA member on J6. That is one hell of a tennis match right there.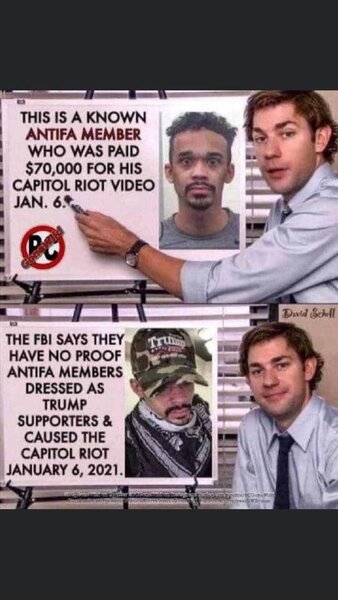 In a video from J6 he is heard saying "Let's go! This shit is ours! We accomplished this shit! We did this together! Let's burn this shit down!"
We want to be VERY clear here. There is no way a REAL member of MAGA (Make America Great Again) would say that. Not that day for sure. Okay, possibly during a real civil war, which is what the left have been pushing for since Trump won his first of two terms (they stole the 2nd in 2020).
There is a world of difference between us and them (HERE and HERE). We are NOT the violent ones. If we were then not a scorched stone would be left of the Capitol. They should count their blessings!
Amazingly, the motherfucking FBI can find every grandma who even stood on the sidewalk outside of the building on J6, but not a single antifa or blm from all of 2020 and their dozens of riots and statue destruction.
The left are DNA deniers, election theft deniers, science deniers (thinking vaxx is vaccine), and who think cloth is magical (it blocks NO viruses). You can add balloon deniers to that list now.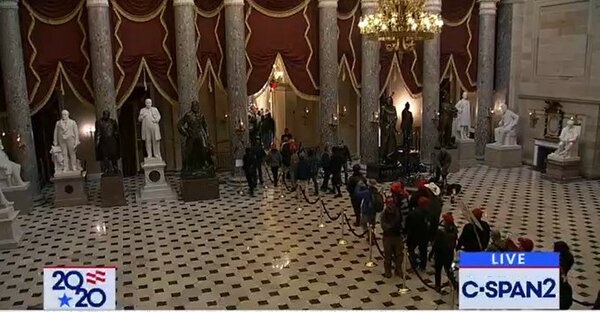 Their focus appears to be on "intelligence collection", saying the balloon "has limited additive value" for that. Of course, that assumes that is the actual reason it was sent here. Ass-U-Me.
Ryder added, "We are tracking it in minute detail in real time and we will constantly update our assessment. We are in constant surveillance of this thing through a bunch of different means."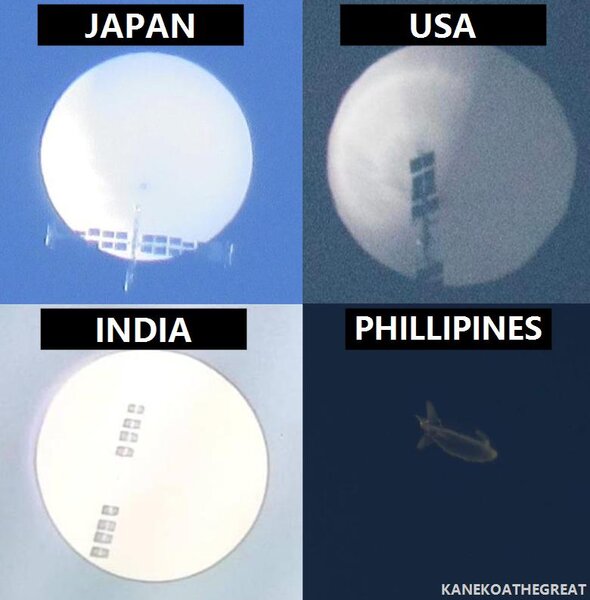 Great, and since China got away with this one, you got some wonderful practice for tracking the next one, and the one after that, and…
This isn't the first time communist China has had the same "accident" with one of their balloons. In fact, Japan, the Philippines, and India, all of whom they now have a border/territory conflict with or did have in the past, have had at least one balloon go over in recent years.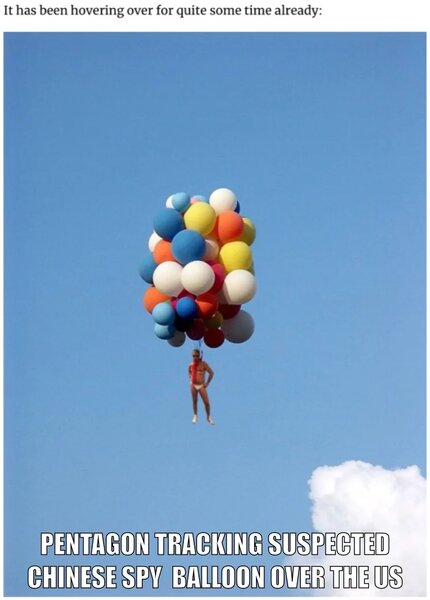 In addition to this one over the USA right now, the pentagon says one is also going over Latin America, but didn't specify which country or countries. Sounds like a pattern of behavior. As do American leftists acting as apologists for the actions of their fellow communists while crucifying Patriots.
UPDATE 02/04/2023, 850pm: An F-22 just shot the balloon down over the South Carolina coast…after it traveled across the entire USA! Fuck Joe Biden!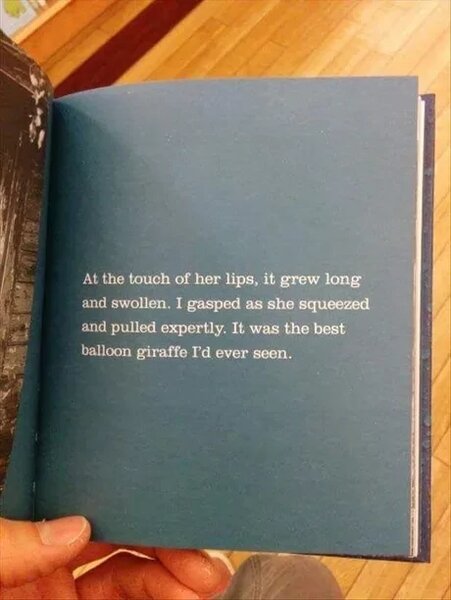 Source: Musixmatch
Songwriters: Joern-uwe Fahrenkrog-petersen / Carlo Karges / Kevin Mcalea
99 Luftballons lyrics © Edition Hate, Edition Uwe's 99 Songs For The World"
You can find us on social media here:
https://gab.com/MisterGoldiloxx
https://parler.com/MisterGoldiloxx
AND
https://gettr.com/user/realityshed
https://twitter.com/RealityShed
https://truthsocial.com/@RealityShed
NOTE: We post new content every day, and have a Comment section here in the shed (below every article), so please use it and help build the Reality community. If you enjoy our work please consider using the 'Buy Me a Coffee' donation link. Either way please bookmark us and help spread the word to family and friends. Thank you.
Like A Bad Neighbor 'Great Harm' Don't Care!, Pro-Trans Leftist Insurance Company Partially Denies First Ever Claim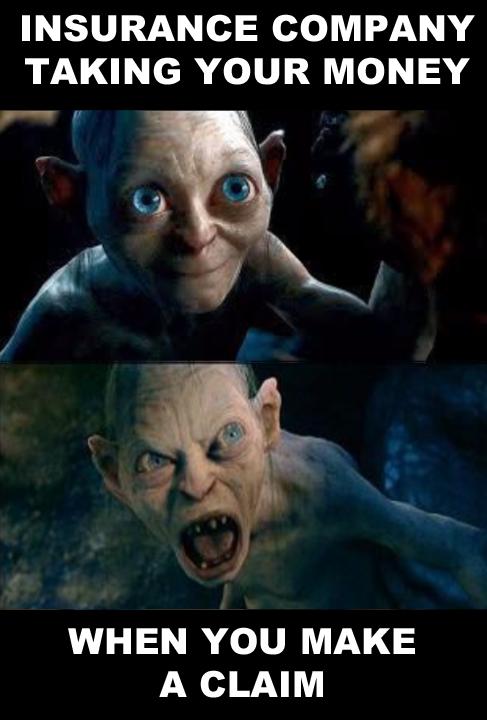 Yes, we know about the travesty the alt-far-left-communist-democRATs pulled today (March 30, 2023) by indicting President Donald Trump in solid blue New York state. We were already working on this article, and stopped to post our initial thoughts HERE and HERE (for those that hate that site, the same comments were posted on other sites too). Then we resumed this because it was almost done…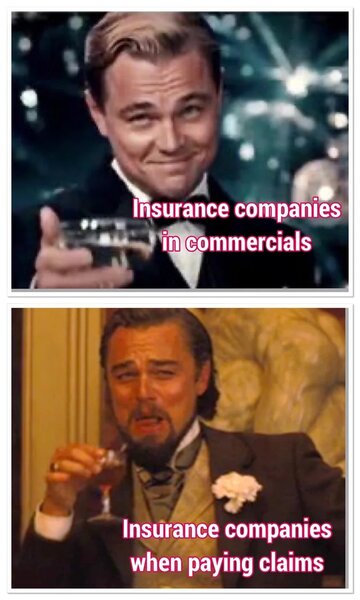 For those living under a rock or in a foreign country…or under a rock IN a foreign country…State Farm is a well-known insurance company in the United States. In fact, they are either #1 or #2 (to Progressive), depending on the source, with about 13.5% market-share.
They are famous for a long-running ad campaign: "Like a good neighbor, State Farm is there", and our article title is a play on that. We even wrote that before we found that cat meme below. Thank you sub-conscious!
Despite being a 10-year-old cartoon boy, we are a LONG-time customer, with a perfectly clean driving record, and have paid them a LOT of money in insurance premiums over the years, plus this was our first claim ever.
So imagine our surprise when our perfectly functioning 'thing' was hit by 'another thing' and suddenly our 'doohickey' starts acting up and they decide to cover cosmetic damage and not fix the CLEAR safety issue.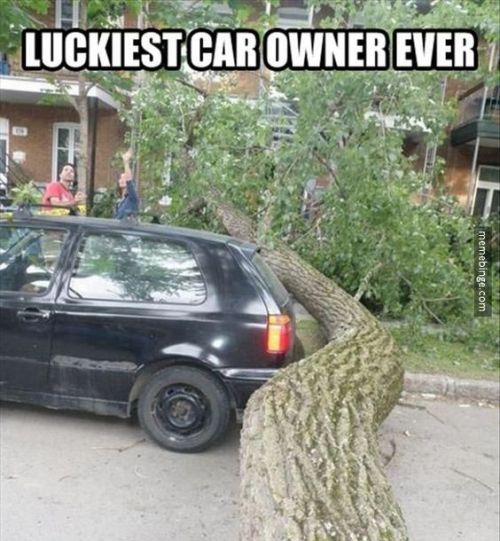 Yes, that is vague on purpose.
What did NOT happen to us is that we were flying our X-wing Starfighter down the beach at night and a Killer Whale visiting relatives in the city started running next to us, then as we slowed down it decided to continue on to the ocean on our right and hit the front left area while also causing our 'flight system' (starting and stopping) to suddenly not function properly.
But that is close to what happened.
It could have been much worse, as other space craft were traveling towards us and also flying a little too close behind us. If we came to a sudden stop or veered left or right there would have been blood and some of it might have been ours.
We contacted our local insurance agent who told us to call a toll-free number and that in turn said to get an estimate. The local X-wing Starfighter repair center said there was a part that was bad that would fix everything but the dent (which would be dealt with at an X-wing Starfighter body shop).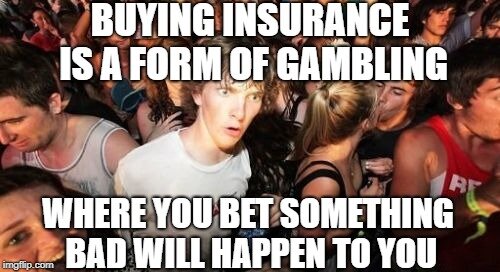 We then spoke with many people at State Farm, all women (not that it means anything, we just happened to notice it as we wrote down each name…always write down the date, time and name of who you speak with), as we reported our claim and it worked its way through their system.
They were all supportive and friendly. We just wanted our X-wing Starfighter fixed before the next rebel uprising.
The last person we spoke with denied the aspect of the claim that we felt was most important (being able to stop and go). She felt the dent was the key issue. We'll refer to her as 'Runaround Sue', because we suspect she is a whore AND we'd sure like to sue her, but it isn't worth it.
What we will do instead is write this, spread the word, and punish them that way. For years and years. Bank on it. We are bitter and we hold a grudge. You also already know how we feel about scammers.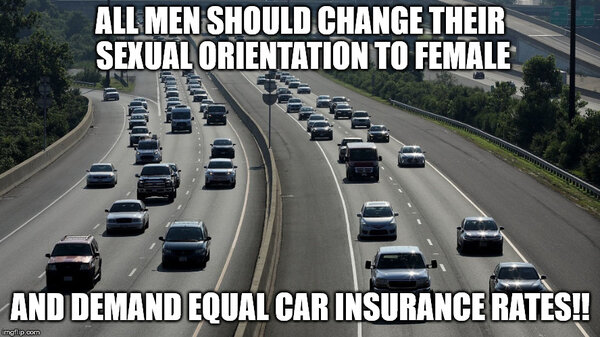 In a past life, we were a gate-keeper for a large company, and we had great powers. We used them for good, didn't throw money at people, and only denied help to those who obviously did not deserve it.
Her gate-keeping radar was way off. Probably from the whoring.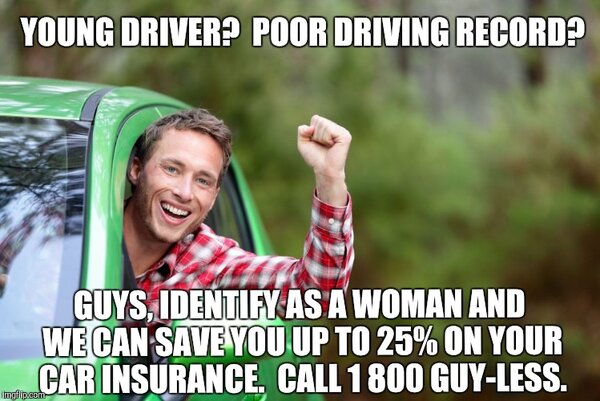 So now our X-wing Starfighter will look pretty and be unusable without the repair, or we get the honor of not only paying our insurance premium (less than a week before the Killer Whale) but also for the repair to make the X-wing Starfighter usable again.
Runaround Sue kept using a certain phrase (NOT 'denied' and NOT 'covered', another one, that isn't a synonym for those) over and over again, as if she could hypnotize us with it.
Our stance was, is and will always remain, that the X-Wing Starfighter was flying normally before the Killer Whale hit it, and it was not afterwards, so sure fix the dent, but we also need the stop and go ability functioning too.
The bitch just kept repeating "it isn't", then that one word.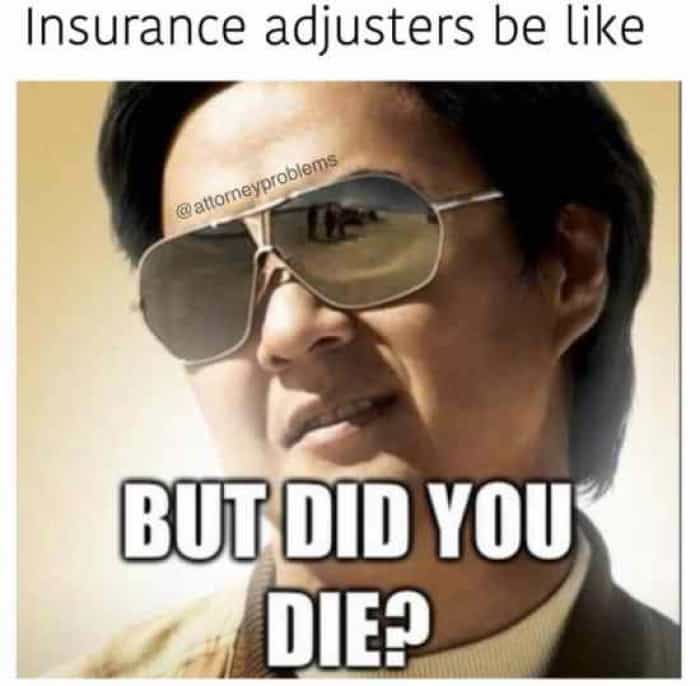 Her stance is that there should have been more damage, and the pictures we took right after of the piece of Killer Whale skin with hair on it (bet you didn't know they had that, but they do), and other Killer Whale hair stuck to that area of our X-wing Starfighter didn't matter.
One of her male colleagues even told the X-wing Starfighter repair shop boss they didn't think a Killer Whale hit us. She admitted it before denying it later.
To quote the late great Sam Kinison on an ex, "You lying whore! You used me! You never loved me! I hope you slide under a gas truck and taste your own blood! Die! Die! Die!". He always was a romantic.
This is the same company that last year tried to put books from "GenderCool" praising 'the trans' into schools for kids as young as 5-years-old. There was both a customer AND agent backlash over that announcement, and State Farm backed down.
We have a long memory though. Attempted sexual abuse is still a bad thing, and that is what 'the trans' is, and we've discussed it many times so far (HERE).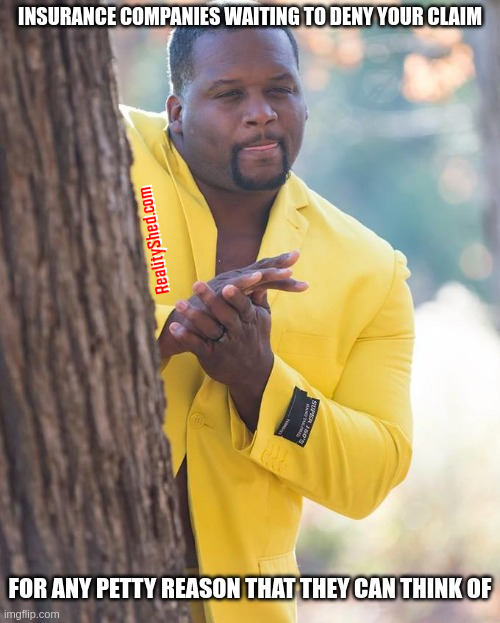 Just think, Runaround Sue comes off as SO righteous yet she works for a company pushing to surgically mutilate children, cutting off little girl breasts and little boy penises. She is the Josef Mengele of the insurance industry.
We almost quit State Farm then, but our own local agent is great and said the company would not make that mistake again. They had made at least one earlier though.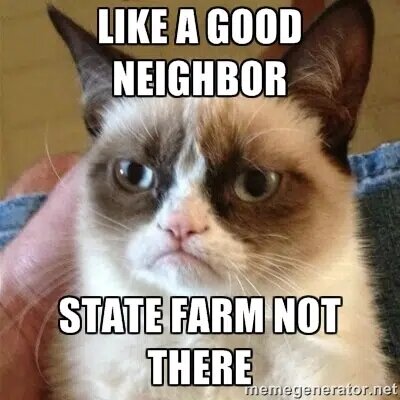 In 2014, they denied benefits to a paralyzed man because he did not insure his motorized wheelchair, despite not even offering such coverage themselves (in fact, no insurance company did). Read about that HERE.
Today they have a new ad campaign, having joined the ranks of the companies who, post 2020 and the RIOTS by blmantifa, decided that they MUST have a black person in every damn ad, AND if a white person is in the ad, the white person has to be goofy or stupid.
So, for a few years now, State Farm's current ad campaign is 'Jake from State Farm', featuring a probably very nice young black male actor, and assorted white people who appear retarded. And for just a FRACTION of what they pay 'Jake' for ONE ad appearance our X-wing Starfighter would be usable and this article doesn't ever get written.
Actions have consequences, so while we write this article in a blatant effort to monetarily hurt those who hurt us monetarily, and do so anonymously, we are fully prepared to defend ourselves if need be. After all, the truth is a perfect defense.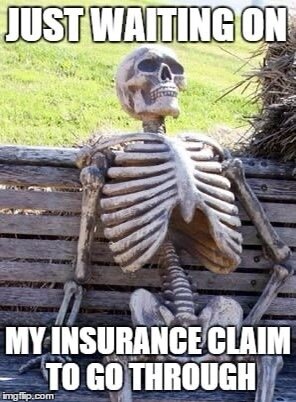 If you have State Farm, please just know that this could happen to you at any time, just as it did to us. But there are alternatives, including a Conservative one (HERE). And please forgive us for our vagueness, but the point comes across anyway.
Fuck you, State Farm. Like Neo did for Agent Smith in the 2nd and 3rd Matrix movies (the crappy ones; we don't count the recent 4th one as the 2nd Wachowski BROTHER did not return to write/direct), you have given us "purpose".
But we are NOT going to insert our digital hand into your chest while our eyes glow, converting you into a clone of us. No, what we are out to do is to cost you AT LEAST 10x what you screwed us over for, if not 100x or more. Purpose!
Please post your insurance horror stories, or positive experiences, in the comment section below.
Adding: There is a hero in this story…besides us. When we contacted our local agent to inform them about what happened they made some comments about gate-keepers and the importance of taking care of customers. They decided to cover the cost of that one part for us themselves. There are good people in the world. But evil must still be punished, so the game is still on.
You can find us on social media here:
https://gab.com/MisterGoldiloxx
https://parler.com/MisterGoldiloxx
AND
https://gettr.com/user/realityshed
https://twitter.com/RealityShed
https://truthsocial.com/@RealityShed
NOTE: We post new content every day, and have a Comment section here in the shed (below every article), so please use it and help build the Reality community. If you enjoy our work please consider using the 'Buy Me a Coffee' donation link. Either way please bookmark us and help spread the word to family and friends. Thank you.
Pork Away Pal!, Usurper Poop Francis Calls 900 Year Ban On Priests Having Sex 'Temporary' And Vows To Review Policy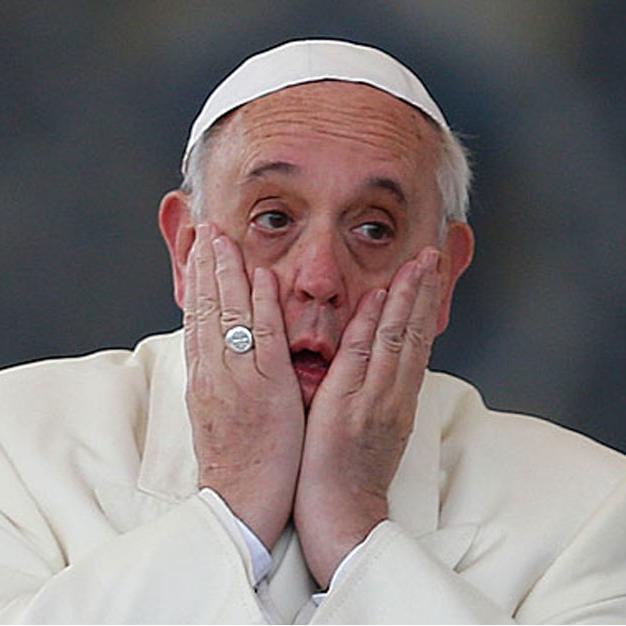 Joseph Aloisius Ratzinger, known professionally as Pope Benedict XVI, was a decent and honorable man. He became Pope in April 2005, following the death of Karol Józef Wojtyła AKA John Paul II. Joseph was then later pushed into retirement on February 28, 2013, taking the title of "Pope emeritus" when Jesuit Jorge Mario Bergoglio usurped power and sent the Church into centuries of darkness.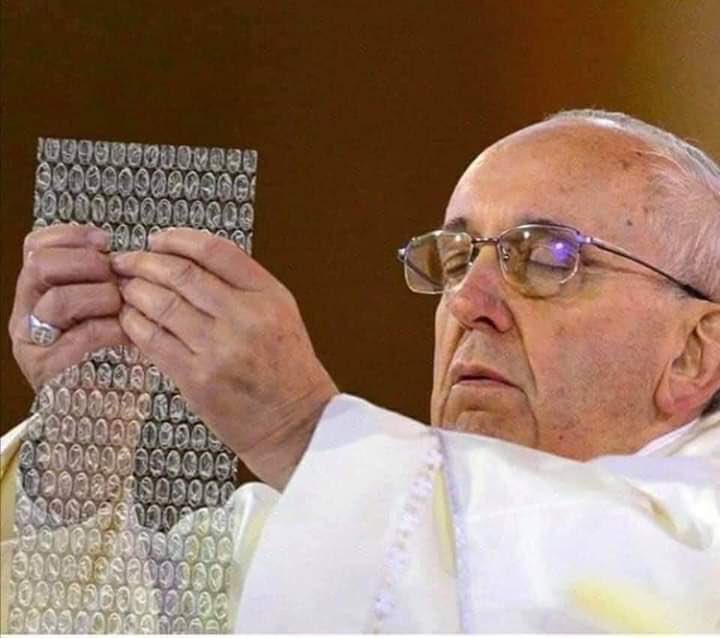 Okay, it just feels that way. Jesuits are the democRATs of religion. They pretend to be Christian, just as democRATs pretend to be American.
Jorge (discussed prior HERE), who took the name 'Francis', was born in Argentina to Italian immigrant parents. But no matter what he is called, his sole mission is to destroy the Roman Catholic Church and he has become exceedingly efficient at it.
Traditional Latin Mass (aka Tridentine Mass) was good enough for use from 1570 to 1962. Although Jorge didn't phase it out, he is trying to stomp it to death, having deemed it a step backward. He even wants to end its use among those willing to participate.
Perhaps if he thought of Latin Mass as he does abortion or 'migration', then those wanting to celebrate it would be free from his persecution.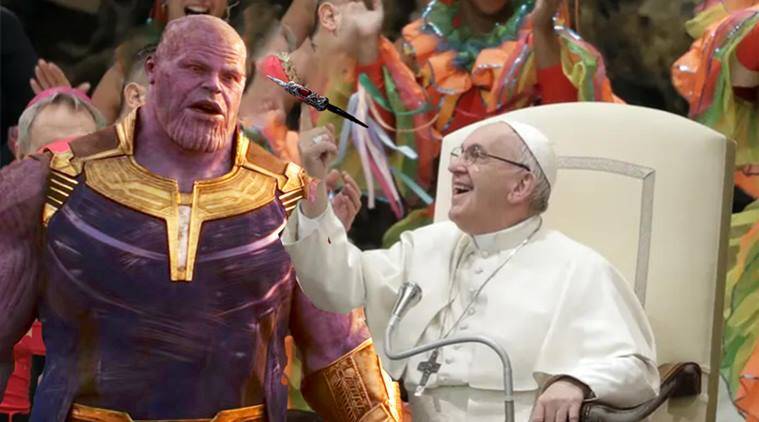 That brings us to the main topic. Since 1123, the Church has sought to ordain only unmarried men.
But Jorge says that despite the length of time the current policy has been in effect, that he considers it to be temporary and that for a priest to marry is "no contradiction".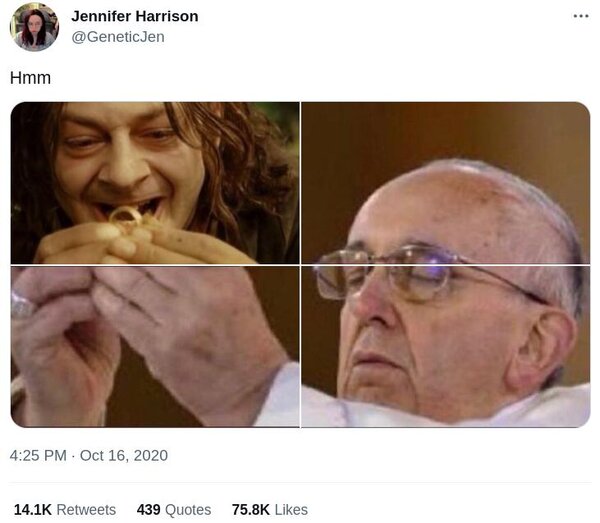 We read an interview with a male author once, and he answered a question by stating the reason he never participated in gay sex was that he was afraid he would like it. That logic applies to anything potentially corruptive (drugs, drinking, voting democRAT, etc).
If you are religious and want to have sex, then simply don't become a priest or nun. It isn't your calling.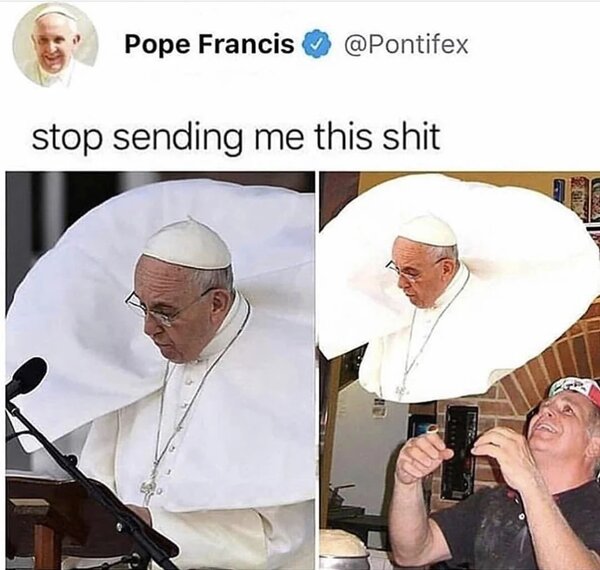 What Jorge, 86…so fingers crossed he isn't with us much longer…is trying to accomplish, as all leftists do, is to bend normality to their own perverted wishes.
Just as Germany has led the way in destroying not only their own country but also the entire continent of Europe, via Angela Merkel's open door (for mainly muslims…) policy, so too do they also now lead the way in ruining the Catholic Church, having voted to request Jorge end the celibacy obligation.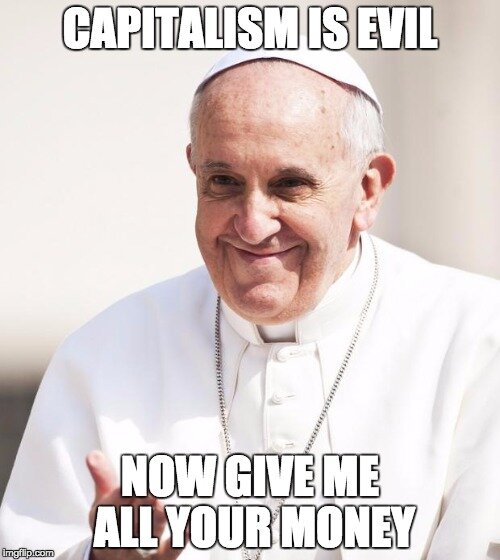 And for his part Jorge readily agreed, stating recently, "There is no contradiction for a priest to marry. Celibacy in the western Church is a temporary prescription."
That is in sharp contrast to his own position from 2019 when he called celibacy a gift, and declared it was not optional.

Discussing this with a fellow Catholic, they suggested Jorge simply had an epiphany. We asked if that was a new brand of strap-on.
In the same interview he talked about the rising divorce rate, and we can't help but notice that non-celibate religious life would NOT solve that issue.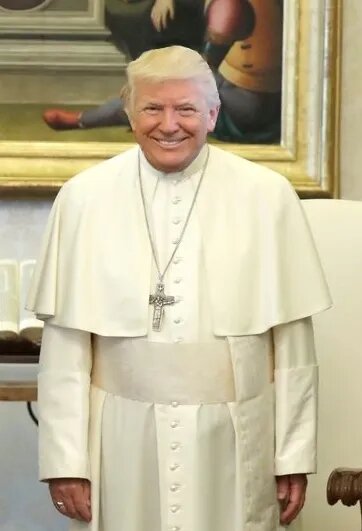 The simple fact is that some take responsibility seriously, and others do not. Also, people who do not value societal traditions hate those of us who do.
That goes for stealing elections, forcing vaxx that leads to dying of suddenly, or messing with religion. FAFO…Fuck Around and Find Out.
"Just go ahead. Pork away, pal. Fuck her blue.", spoken by Kevin Kline as Otto to John Cleese as Archie Leach (and that character was named after Archibald Leach who was known professionally as Cary Grant), from 'A Fish Called Wanda' (1988), from getyarn.io. Video no 'worky', but audio is from movie and we can't find a better version of clip that entire article premise depends on, so here it is!
You can find us on social media here:
https://gab.com/MisterGoldiloxx
https://parler.com/MisterGoldiloxx
AND
https://gettr.com/user/realityshed
https://twitter.com/RealityShed
https://truthsocial.com/@RealityShed
NOTE: We post new content every day, and have a Comment section here in the shed (below every article), so please use it and help build the Reality community. If you enjoy our work please consider using the 'Buy Me a Coffee' donation link. Either way please bookmark us and help spread the word to family and friends. Thank you.
Collusion Of Communists, antifa Domestic Terrorist Tom Jurgens Is SPLC (southern poverty law center, [SIC]) Lawyer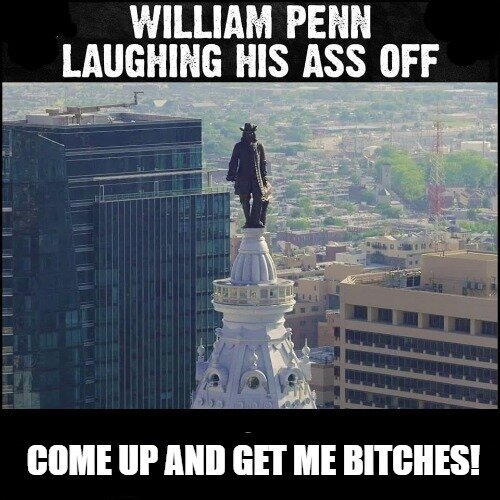 Nobody elected so-called 'fact checkers' or ANY organization to determine who was a 'domestic terrorist' or 'hate group', but leftists unilaterally decided to declare themselves as those and, just like Joe Biden, usurp power.
Real actual proper 'hate groups' and 'domestic terrorists' reveal themselves through their own actions. More on that below.
Yes, we made an exception to our rule of no cursing in the main image, article title or first paragraph. That meme we found for this was just too good to not be first. And as far as cursing goes, it is pretty mild.
Our normal disclaimer: we don't hate ANYONE…except communists. Fuck them to hell! Oh, and it has been a while since we mentioned that we intentionally 'lower case' things we have NO respect for. So those are 'intentionals', not accidents.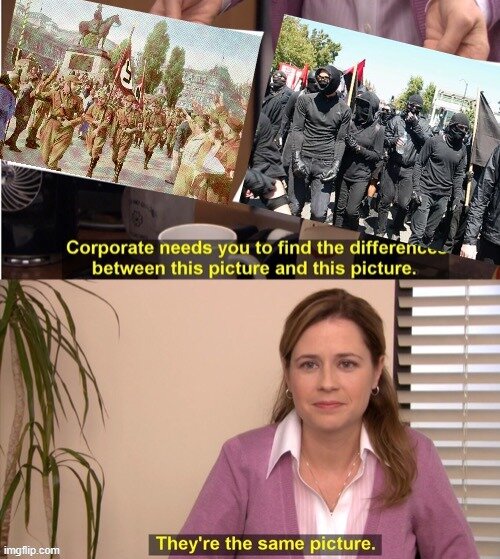 The entire 'anti-fascist' movement is based on a lie. They believe that America is filled with Nazis and they define Nazi as anyone who disagrees with them. As adults, they are responsible for their own actions, but this is the result of gaslighting and brainwashing from childhood by adult communists. Not an excuse, just pointing out no teaching goes on in schools.
Part of the problem is the myth the left spread. In reality, nazi = national SOCIALIST = left wing because ALL socialists are left wing! Communist = global SOCIALIST = which is also left wing. The distinction is in scope: either localized (to a nation) ​​or international (aka globalist).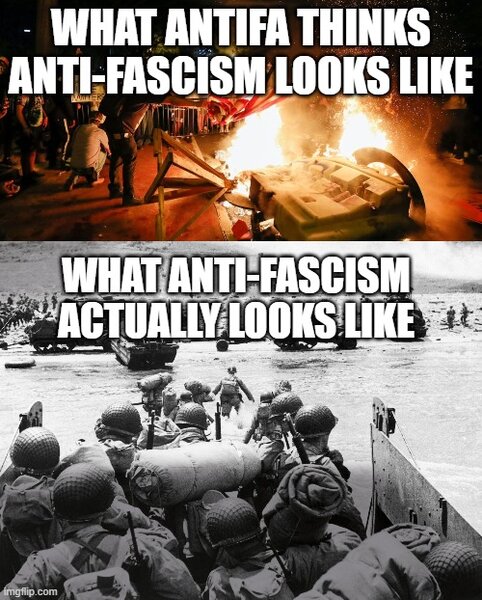 The 'southern poverty law center' [SIC] or splc, is an alt-far-left-communist-democRAT front group. splc itself is a known alt-far-left hate group aligned with the now obviously criminal fbi, who refer to splc as a "valued asset". Both provide protection for their fellow communists by casting never-ending aspersions on true American patriots. fbi is now even trying to label Catholics as extremists. Fuck you fbi!
Enter Thomas Webb Jurgens, 28 and an attorney for the splc, who along with a large group of his friends, attacked a police training facility in Atlanta, Georgia, that they nicknamed 'Cop City' on Sunday, March 5, 2023.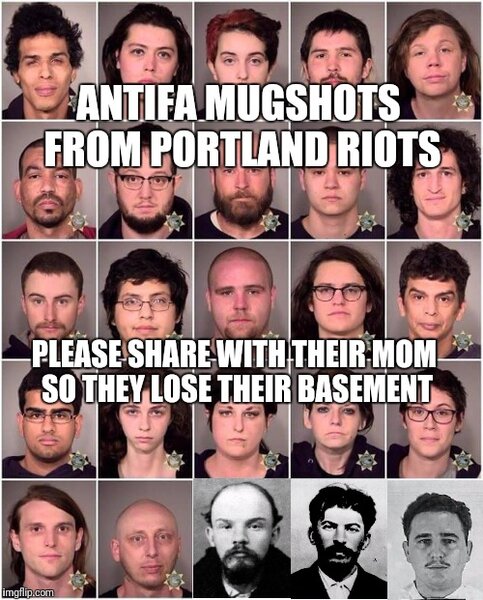 Police label it as "a coordinated attack" on officers and equipment, and also state that antifa "used the cover of a peaceful protest" to access the premises before changing "into black clothing and entering the construction area" of the facility, which was not yet completed.
So far, 23 people (aged 18 to 50) that we know of so far have been charged. They come from all across the United States of America, and also France and Canada. More arrests are possible, and so far all charges have been filed by the Georgia Bureau of Investigation and none by the fbi…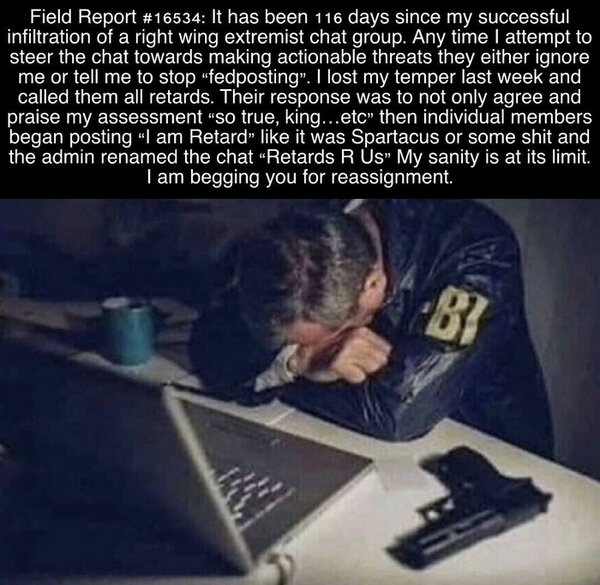 This is all eerily similar to J6 (January 6, 2021) when it is proven that many antifa and their blm kissing-cousins wore Trump hats and shirts to lead the charge on the Capitol before changing clothes and slipping away, having lured in Patriots who were arrested for walking between velvet rope-lines peacefully and single-file.
And never forget the MANY 2020 protests by blmantifa (really one group wearing two uniforms to give the illusion of separation). No different than democRATs and RINOs (who are NOT actual Republicans), who are actually the DC uni-party, but give the illusion of conflict.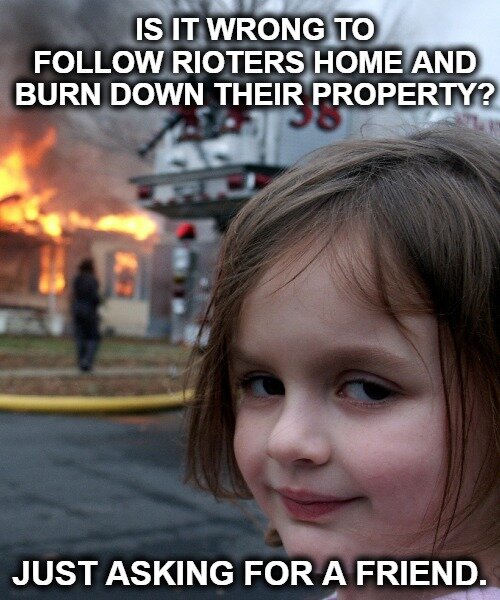 democRATs, antifa, msm, the fbi and others defend illegal aliens and trans'ing our kids. They want to arrest parents for trying to protect their children from government school groomers, who are working to destroy our history, including tearing down our statues.
We prior discussed antifa HERE, blm HERE, fbi HERE, and splc HERE.
Now is the time to take a stand against them all. They have exposed themselves as anti-America AND anti-American.
Sooner or later there will be open conflict with antifa by American patriots. We aren't calling for that, it is simply inevitable. Their attack on the police proves they are already at war with us.
You can find us on social media here:
https://gab.com/MisterGoldiloxx
https://parler.com/MisterGoldiloxx
AND
https://gettr.com/user/realityshed
https://twitter.com/RealityShed
https://truthsocial.com/@RealityShed
NOTE: We post new content every day, and have a Comment section here in the shed (below every article), so please use it and help build the Reality community. If you enjoy our work please consider using the 'Buy Me a Coffee' donation link. Either way please bookmark us and help spread the word to family and friends. Thank you.