We Have No Bananas Today, Joe Biden and democRATs Change USA Into Worlds First 'Ice Cream Republic'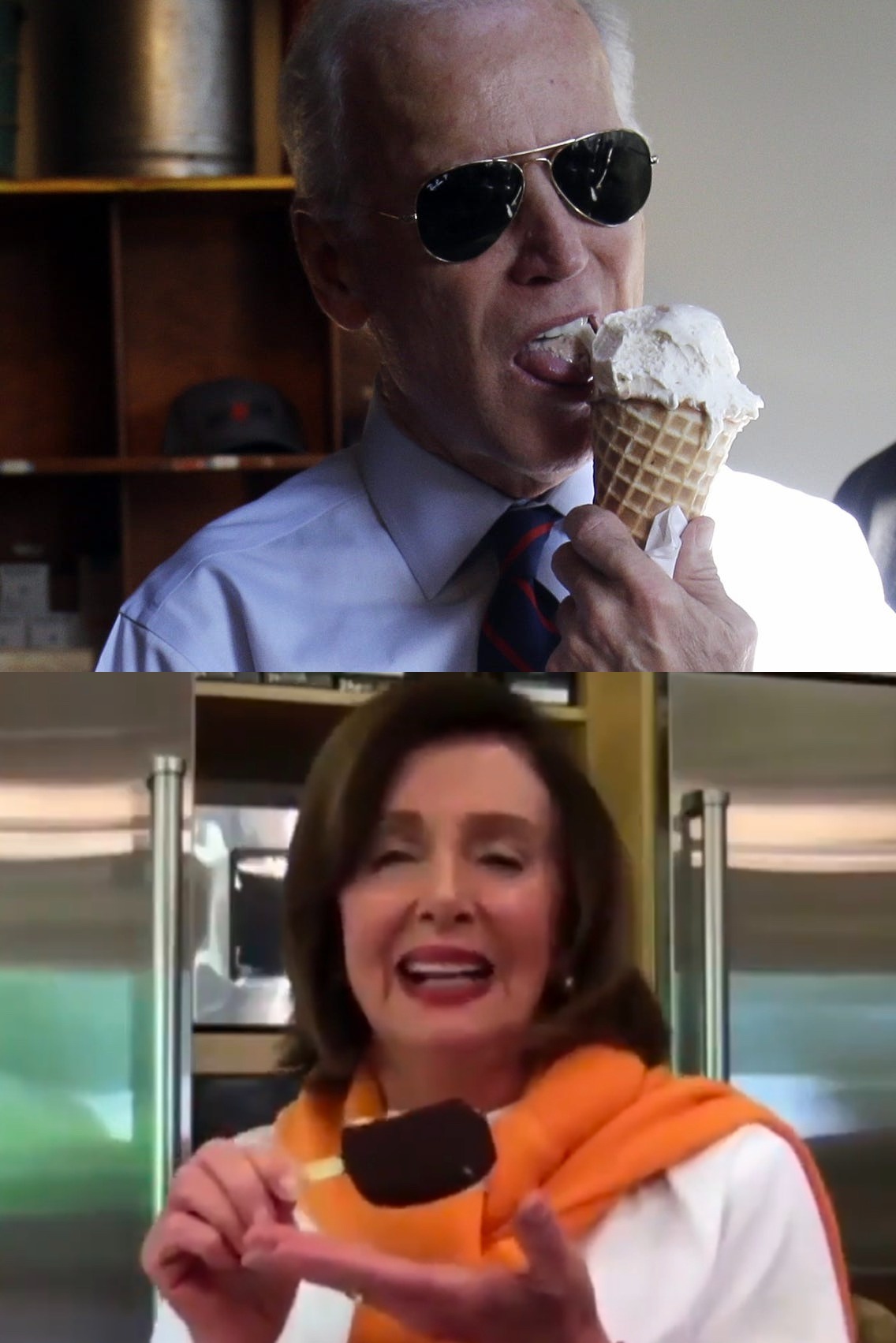 YESTERDAY, August 8, 2022, a date which will live in infamy the 45th President of the United States of America Donald Trump and the 'Make America Great Again' (MAGA) movement was suddenly and deliberately attacked by FBI forces of the democRAT Biden Usurpation.
The United States and MAGA were at peace with that Entity and, at the solicitation of democRATs, was still in conversation with its Usurpation and its Usurper in Thief looking toward the maintenance of peace in North America. Indeed, at 7pm EST after FBI thugs had commenced their invasion of the peaceful oasis of Mar-A-Lago, the Usurpation's head of their INjustice Department delivered to MAGA and our representative (Trump) a search warrant. And while this warrant stated that they sought classified documents it was useless as the documents had been declassified over 18 months ago.

Okay I am done playing. We must now thoroughly and utterly destroy Democrats AT THE BALLOT BOX November 8, 2022, AND if you are able to do so please volunteer to work elections going forward so that the voting is "safe, legal and rare (as in one vote per person)", with proper state-issued photo ID or Driver's License, signature matched, and on paper. For fun ask a Democrat why local Board of Elections have all of our signatures on file if not to match against our election day signature and watch them go all deer in the headlights.
From Nancy Pelosi (AKA Nazi Piglozi) and her dual freezer $25,000 set up with $8 a pint gourmet chocolate ice cream, to Joe Biden (AKA Joke Bitem) and his non-stop trips to get ice cream, democRATs have changed the United States of America into the worlds first 'Ice Cream Fauxpublic'. We can't protect the U.S. border, the illegal aliens Dems bring in aren't tested OR 'vaxxed for Covid, and on and on, but Dems can send BILLIONS to Ukraine and just hired 87,000 new IRS agents (for an agency known to have stockpiled millions of rounds of ammo). We have no bananas, but leftists always seem to have plenty of fucking ice cream.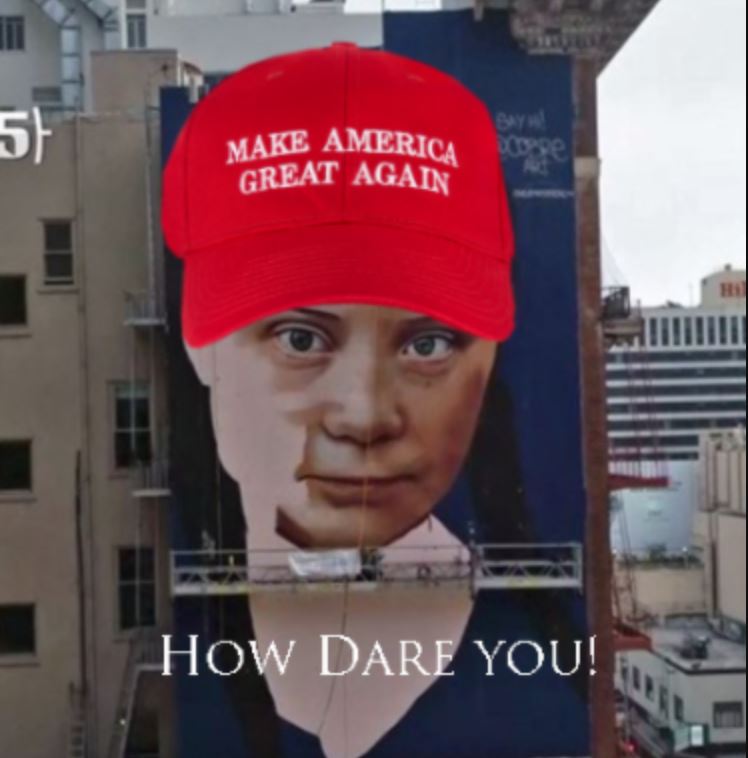 BEGIN QUOTE
Yes! We Have No Bananas
Song by Louis Prima
Lyrics
There's a fruit store on our street
It's run by a Greek.
And he keeps good things to eat
But you should hear him speak!
When you ask him anything, he never answers "no".
He just "yes"es you to death, and as he takes your dough
He tells you
"Yes, we have no bananas
We have-a no bananas today.
We've string beans, and onions
Cabbageses, and scallions,
And all sorts of fruit and say
We have an old fashioned to-mah-to
A Long Island po-tah-to
But yes, we have no bananas.
We have no bananas today."
Business got so good for him that he wrote home today,
"Send me Pete and Nick and Jim; I need help right away."
When he got them in the store, there was fun, you bet.
Someone asked for "sparrow grass" and then the whole quartet
All answered
"Yes, we have no bananas
We have-a no bananas today.
Just try those coconuts
Those walnuts and doughnuts
There ain't many nuts like they.
We'll sell you two kinds of red herring,
Dark brown, and ball-bearing.
But yes, we have no bananas
We have no bananas today."
Yes, we are very sorry to inform you
That we are entirely out of the fruit in question
The afore-mentioned vegetable
Bearing the cognomen "Banana".
We might induce you to accept a substitute less desirable,
But that is not the policy at this internationally famous green
grocery.
I should say not. No no no no no no no.
But may we suggest that you sample our five o'clock tea
Which we feel certain will tempt your pallet?
However we regret that after a diligent search
Of the premises
By our entire staff
We can positively affirm without fear of contradiction
That our raspberries are delicious; really delicious
Very delicious
But we have no bananas today.
Yes, we gotta no banana
No banana
We gotta no banana today.
I sella you no banana.
Hey, Marianna, you gotta no banana?
Why this man, he no believe-a what I say.
Now whatta you want mister?
You wanna buy twelve for a quarter?
No? well, just a oneofadozen?
I'm-a gonna calla my daughter.
Hey, Marianna
You gotta piana
Yes, banana, no
No, yes, no bananas today
We gotta no bananas.
Yes, we gotta no bananas today.
Source: LyricFind
Songwriters: Frank Silver / Irving Conn
Yes! We Have No Bananas lyrics © BMG Rights Management, Reservoir Media Management Inc
END QUOTE
NOTE: We post 2 articles a day on average, and have a Comment section here in the shed (below every article), so please use it and help build the Reality community. And if you enjoy our work we have a 'Buy Me a Coffee' donation link. Thank you.
So Much For Touting Strong Women, Google Removes Videos Of Giorgia Meloni AND Laura Loomer Calling Out Alt-Far-Left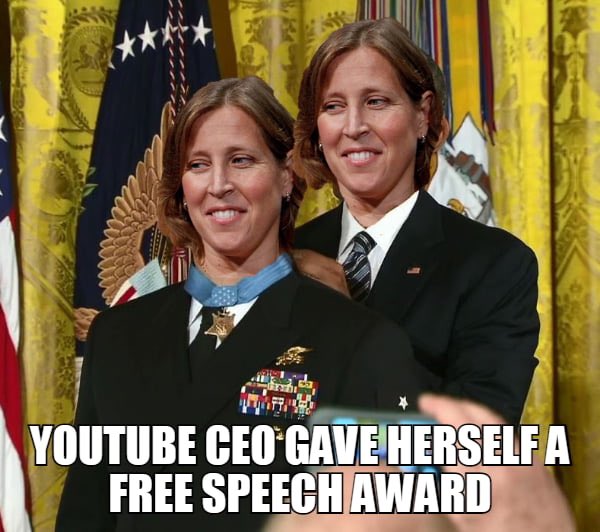 Leftists love to preach about 'diversity' (which is usually code for anti-white and/or anti-Western), and also about supporting 'strong women', but when confronted by videos featuring views from two of those recently, Google owned YouTube decided to prevent them from being watched.
The left's continued use of censorship on platforms they insisted existed to express free speech is a form of terrorism. They want us to be afraid to speak openly in opposition to their communism. People like Conservative Activist Laura Loomer have endured such censorship for years now, so while we are certain it still stings, this latest example is probably like water off a duck's back to her now, and the YouTube video in question has already been moved to Rumble.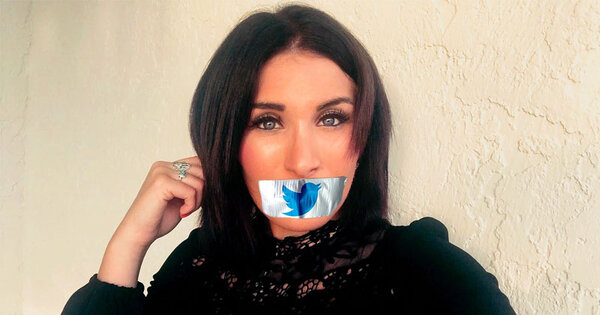 Giorgia Meloni likely isn't as used to it, but as with Loomer, she is a truly strong Conservative woman and she will adjust to her new life as Prime Minister of Italy and the daily attacks from the alt-far-left-MSM. And she can now use her new power to go after Big Tech, since they just 'fired the first bullet' against her, so to speak.
We here at the shed got a notice from Google 3 days ago stating one of our articles (the one with the picture of Harris, Biden and Obama walking together) contained "sexual content" and advising us they won't serve ads to it unless we change it. We changed NOTHING, because free speech, and they are still serving ads on that page, PLUS the 'notice' vanished from our AdSense account. Chalk one up for the good guys standing their ground (not that those ads generate much anyway, so one page is no real loss).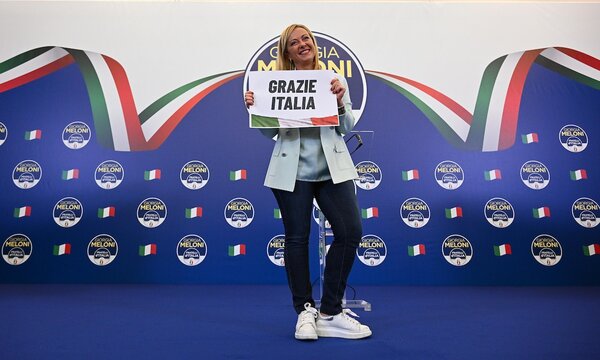 The experts on PUSHING disinformation over at Google decided that Loomer's video "violated its policy on misinformation" but refused to say how although it is believed to be mentioning election theft (which is habitually done by leftists when they fail to steal elections, covered by us HERE, HERE, HERE and HERE). Google are not only election theft deniers, they helped steal the 2020 election.
Loomer is so dangerous to Marxist Big Tech that they have banned her from PayPal, Twitter, GoFundMe, Uber, Stripe, Facebook, Lyft, Venmo, and whatever the fuck Clubhouse is. That makes 10 companies, including Google, deserving of a boycott.
Similarly, they said that Meloni's video violated "community guidelines" and again gave no indication of what that means. This is a suppression tactic which the left is famous for yet, in true Saul Alinsky 'Rules For Radicals' fashion accuses us of. The real trick is to notice those who are supposed to be on our side that the left never attacks! Watch that group like a hawk. Here are the two 'banned' videos (still on Rumble)…
VIDEO ABOVE: "Laura Loomer's Speech to The Villages" from June 1, 2022.
VIDEO ABOVE: "Giorgia Meloni's 2019 Courageous Common Sense Speech (with English subtitles)" given to 'World Congress of Families' and reposted with translation by Robert W Malone MD (YES, the mRNA guy).
NOTE: We post 2 articles a day on average, and have a Comment section here in the shed (below every article), so please use it and help build the Reality community. And if you enjoy our work we have a 'Buy Me a Coffee' donation link. Thank you.
Ectoplasm Obsessed Alt-Far-Left, democRATs Have Now Gone From 'Ghost Guns' To 'Ghost Voters' To Just Plain Ghosts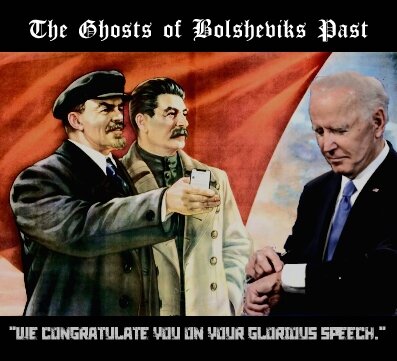 First, it was 'ghost guns', which isn't a real thing unless you are trying to do an end-run around the Second Amendment. Then it was 'ghost voters' (dead people voting, illegal aliens voting, or democRATs voting multiple times per election), and now it is GHOST ghosts. Just in time for Halloween season too.
At a White House conference today (Wednesday, September 28, 2022) on something to take your mind off of him destroying America's economy 100% intentionally, Joke Bitem (AKA Usurper in Thief Joe Biden) did a shout out to a Republican Congresswoman asking repeatedly where she was in the room…despite her having died almost 2 months earlier (on August 3, 2022) in a car crash.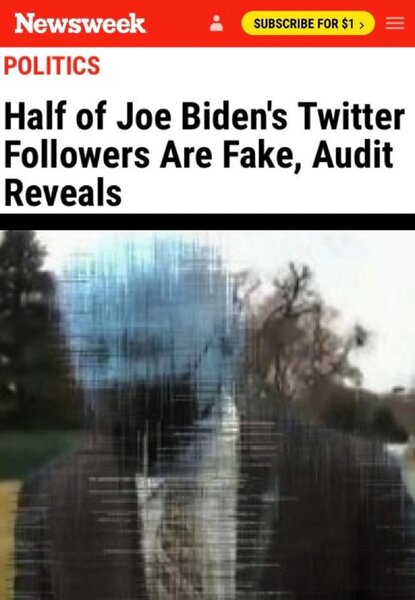 "Jackie? Jackie are you here? Where's Jackie?" Biden asked today. "I didn't think she was going to be here.", he continued. Meanwhile, 8 weeks prior TO THE DAY he had issued this statement, "Jill and I are shocked and saddened by the death of Congresswoman Jackie Walorski of Indiana along with two members of her staff in a car accident today in Indiana."
Joe shakes hands with air, and even half of his 'Twitter followers' aren't real. And typical of the alt-far-left MSM, Senior White House Correspondent for (Verizon owned) Yahoo News, Alexander Nazaryan, who was doing the official White House Print Press Pool report, decided to pretend the conference call out did not happen.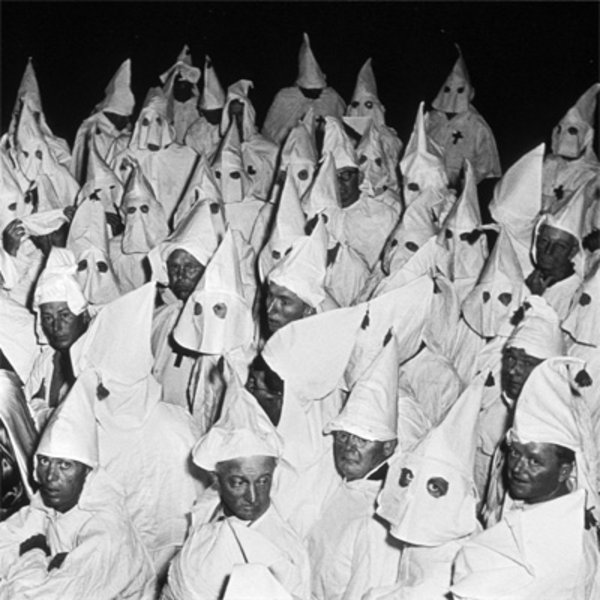 Just remember, if we were to impeach Joe, then Kamala Harris is insta-POTUS, and it is all democRATs the rest of the way down, going next to Nancy Pelosi then Senator Patrick Leahy (D, Vermont), then cabinet officials.
The Elkhart County Indiana Sheriff determined Walorski's vehicle, which was being driven by her district director Zachary Potts, and also contained communications director Emma Thomson, had crossed over the center line, causing the crash. Edith Schmucker was the only occupant of the other vehicle and also died. All four were wearing seat belts.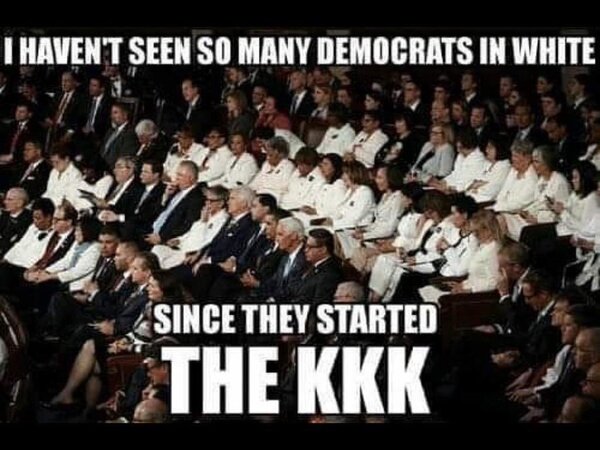 Some sources claim Walorski was "a bridge-building moderate", while others said she was pro MAGA. She had represented Indiana's 2nd Congressional District since 2013. We didn't follow her career but this video leads us to believe she was NOT a RINO, as well as the second video with details about her death.
VIDEO ABOVE: Remembering GOP Rep. Jackie Walorski: Putting Indiana Interests Before the Swamp, "1963-2022: In honor of Jackie Walorski's life and fight for the everyman." by Breitbart via bitchute.com
VIDEO ABOVE: Was Rep. Jackie Walorski MURDERED?, "This is the FIFTH Congressional House member to die this year. Coincidence? You decide." by kriszane via bitchute.com
Rumor is that Walorski was working with Anne Heche on ending child sex trafficking (and that Heche was doing a documentary on the subject). Anne then died 8 days after Walorski in a very bizarre situation which includes video of her trying to get off the ambulance gurney and being pushed back on before it disappears inside the vehicle (see video). Strange stuff.
NOTE: We post 2 articles a day on average, and have a Comment section here in the shed (below every article), so please use it and help build the Reality community. And if you enjoy our work we have a 'Buy Me a Coffee' donation link. Thank you.
Senator Claims Amazing democRAT Powers, Says Hurricanes Wouldn't Exist If Republicans Simply Let Left Have Their Way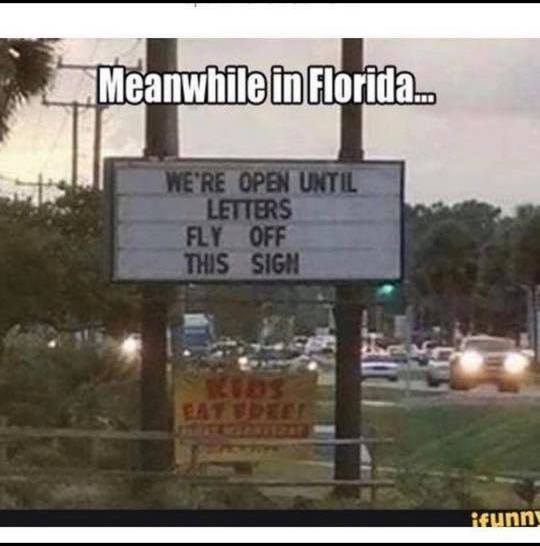 Minnesota Senator Amy Klobuchar (D is for Disinfect), who once famously berated a staffer for forgetting a plastic fork for Amy's airport salad, then made the staffer clean the comb Amy decided to eat the salad with on their plane flight, is trying to solve problems and our election system keeps getting in her way.
She went on MSNBC (which is Swedish for flooding America with illegal aliens), using the 'Morning Joe' program and host Joe Scarborough (whose intern Lori Klausutis mysteriously died right before Joe suddenly left Congress AND the Republican party, then had an affair with his married co-host, also being married himself) to push her delusions.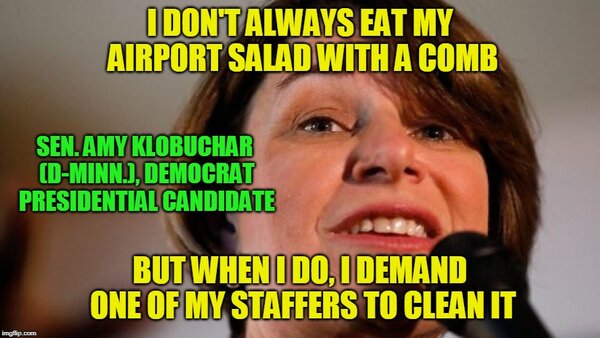 Klobuchar, who ran for POTUS in 2020, insinuated that democRAT policies will do "something about climate change" and therefore hurricanes, saying that is why people must vote communist in the November 8, 2022, general election. She was hinting that 'Hurricane Ian', which is hitting Florida today, wouldn't exist if we just capitulated to the alt-far-left.
Amy also claimed that "women could be facing a grave crisis when it comes to their own control over their health care choices", forgetting that killing your baby (which is 50% from the DNA of the man you made the child with) is NOT 'health care' but IS murder as that child is a unique being with Rights just like Senators have.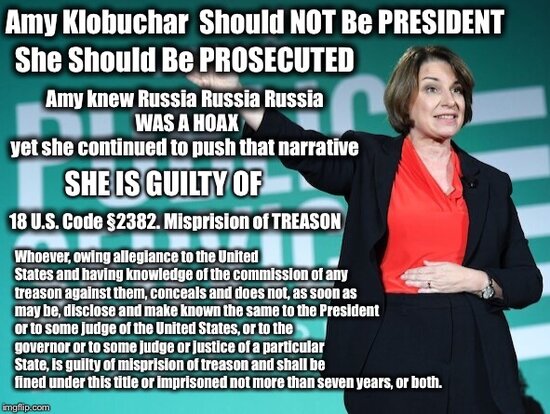 She also claimed that "We have done many, many things on a bipartisan basis", but coaxing RINOs into voting for leftism isn't difficult and also isn't really bipartisan (and in fact they claim that with as little as one RINO vote)!
democRATs are in favor of abortion up to the moment of delivery, and some of them (former Virginia Governor Ralph 'blackface' Northam, for one) want to be able to kill the child even AFTER delivery. What the left want is for you to be gone, regardless of age.
NOTE: We post 2 articles a day on average, and have a Comment section here in the shed (below every article), so please use it and help build the Reality community. And if you enjoy our work we have a 'Buy Me a Coffee' donation link. Thank you.